Which Platform is Best Suited to Meet Your Needs?
When creating a new website, blog or inbound marketing program, many people immediately turn to WordPress. The software is free, it is extremely popular and can be customized inexpensively.  However, businesses that are serious about creating a truly well-rounded digital marketing platform for lead generation may want to consider HubSpot.  As with most things, the system you chose depends on your overall marketing objectives and budget.
WordPress is s a free website and blogging platform that allows you to get a website up and running with minimal investment.  According to WordPress, it is the most popular content management system (CMS) on the market and accounts for 28% of all websites on the internet.  It is the largest self-blogging tool in the world and over 60 million people have used it to power their online home.  It is a user-friendly, open source software supported by thousands of web developers with custom plugins, themes, and tools that can help you accomplish your inbound marketing goals.
HubSpot offers a wide array of products for marketing, sales and customer relationship management.  The platform is described as a content optimization system (COS), best known for its inbound marketing software for businesses.  HubSpot Marketing is a robust, all-in-one solution that allows you to build landing pages, create SEO-friendly blog posts, launch email marketing campaigns, track analytics and more – all from a single dashboard.  Since 2005, HubSpot boasts 30,000+ customers in 90 countries and 3400+ agency partners.  HubSpot offers CRM and sales software for free, but their marketing software (basic version) costs $200/month and their website builder "add-on" starts at $100/month.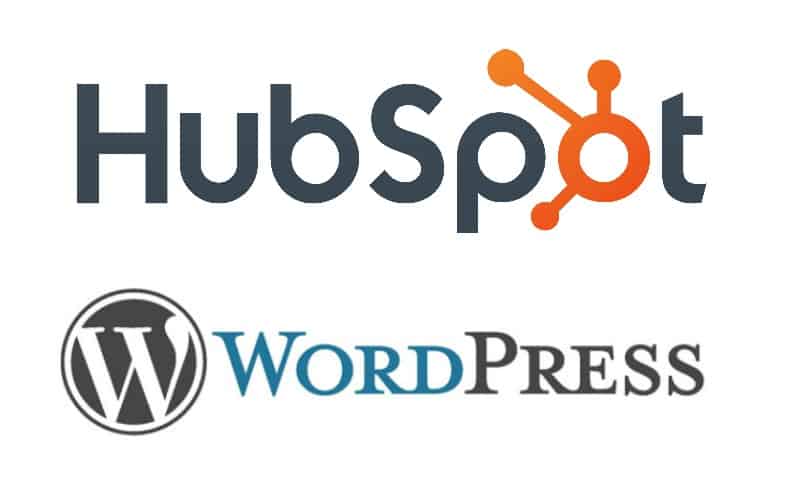 Web Design, Development and Management
With a strong web developer or agency on your side, it is possible to create a fairly robust custom site on the HubSpot platform.  For basic content editing, pages have a WYSIWYG (what-you-see-is-what-you-get) editor that lets a user make on-page changes without any coding — but you can also take advantage of HubSpot's proprietary coding language (HubL) and get more technical with code if you have the know-how (like we do!).  Hubspot websites also have analytics (built-in), are mobile-friendly (automatically) and optimized for speed, reliability, and security.
In WordPress, features vary greatly depending on the theme you use.  If you know how to write code and build a website from scratch, you can upload your creation to WordPress – otherwise, you'll need to upload a free or paid theme that you downloaded off the internet.  There are many reasonably-priced themes that include a well-designed theme editor which lets you tailor a wide array of variables to your specific needs. And WordPress is "open source," meaning that a developer can customize any components necessary.
 In HubSpot, you're able to easily customize landing pages based off of the default templates provided or by selecting a pre-built template from the HubSpot Marketplace.  Their visual builder is also a user-friendly tool that enables you to drag-and-drop prebuilt modules, or custom modules that you or a developer create, into a template and easily rearrange them to suit your needs. In addition, it allows you to create landing pages without any code, to do A/B testing and to easily replicate your branding elements on all interior pages to ensure brand consistency throughout.

Here are a few of its key features and benefits:
"Smart" Content:  HubSpot allows you to dynamically change content – visuals and images – on any page of your website based on information known about the site visitor via their URL. Dynamic content allows for a much more personalized user experience.  For anonymous visitors, you can trigger targeted content based on their country, how they found your site (social media, search engines, etc.), and what type of device they are using.
Secure Hosting:  HubSpot is a proprietary system and does not allow external access to its servers. Instead they maintain the software for you.  This platform is therefore more secure than an open source environment like WordPress, which allows for the addition of external plugins and is a major target for hackers to inject malicious code.  If using WordPress, be sure to select a hosting company that will maintain your core files to ensure that you are always on the latest version of the software to reduce any vulnerabilities. Also, make sure to purchase plugins from reputable developers that offer good customer support.
Call-to-Action (CTA) Buttons:  With HubsSpot, you can view an existing library of CTAs and insert them within a site page, blog post, landing page or e-mail with just one click.
WordPress Integration:  Should a company desire to use some aspects of HubSpot's system while also maintaining a WordPress site, the two systems integrate nicely. HubSpot's tracking can be installed, HubSpot forms can be embedded, etc. to help you achieve your goals.
Choose the platform that is best for your business
There are many cases where WordPress is the better platform choice, such as when there is a need to "own your own code," support e-commerce, or you require the flexibility to add custom functionality. Other businesses may simply wish to avoid HubSpot's substantial monthly fees and may not be committed to the types of marketing strategies HubSpot is built for. If you have an aggressive inbound marketing strategy, knowledgeable web design & development resources, and can afford the monthly fees, you may want to consider all that HubSpot has to offer.
When developing a new website, it's best to hire a reputable agency or web developer to do the work for you.  They can help assess your needs and recommend the appropriate platform.  Turchette creates eye-catching websites and executes comprehensive online marketing strategies for b2b and b2c businesses all over the globe. Our web development team has extensive experience in WordPress, HubSpot and Drupal – and we can do custom web development in PHP.   If you are considering a new website, feel free to check out our portfolio at www.turchette.com/work or give us a call at 973-227-8080 for a free consultation.