TURCHETTE EARNS SIX NATIONAL ADVERTISING EXCELLENCE AWARDS, INCLUDING FIVE GOLD
At the 18th Annual Service Industry Advertising (SIA) Awards, Turchette recently received six national Advertising Excellence Awards — five gold and one bronze. This years' awards are based on numerous advertising, marketing and PR materials created to help launch Caregiver Support Services from CareScout®.
The SIA Awards competition specifically recognizes the creativity and communication accomplishments of service industry providers throughout the U.S.  Over 1,200 entries from more than 500 advertising agencies and 1,000+ organizations were submitted. A national panel of judges reviewed every entry for creativity, marketing execution, message impact/results, technology application and innovation of content. The judges awarded 139 Gold Awards, 71 Silver Awards, as well as 40 Bronze Awards. Turchette received the following awards:
Gold Awards
Integrated Marketing Campaign – Program elements: print/digital/social media advertising, consumer/trade PR, web design, direct mail/collateral, video production, branding and sales support materials.
Total Public Relations Campaign
Advertising Campaign
Single Magazine Advertisement
Direct Mail: Video Brochure
Bronze Award
Collateral: Brochure/White Paper
 Many other advertising awards are dominated by consumer goods, packaged goods and other tangible products. The SIA Awards is the only competition which allows agencies and organizations in the service industry to put their advertising, marketing and PR achievements to the test against the best in the country. https://siaawards.com/
Congratulations to the entire Turchette team and our collaborative partners at CareScout!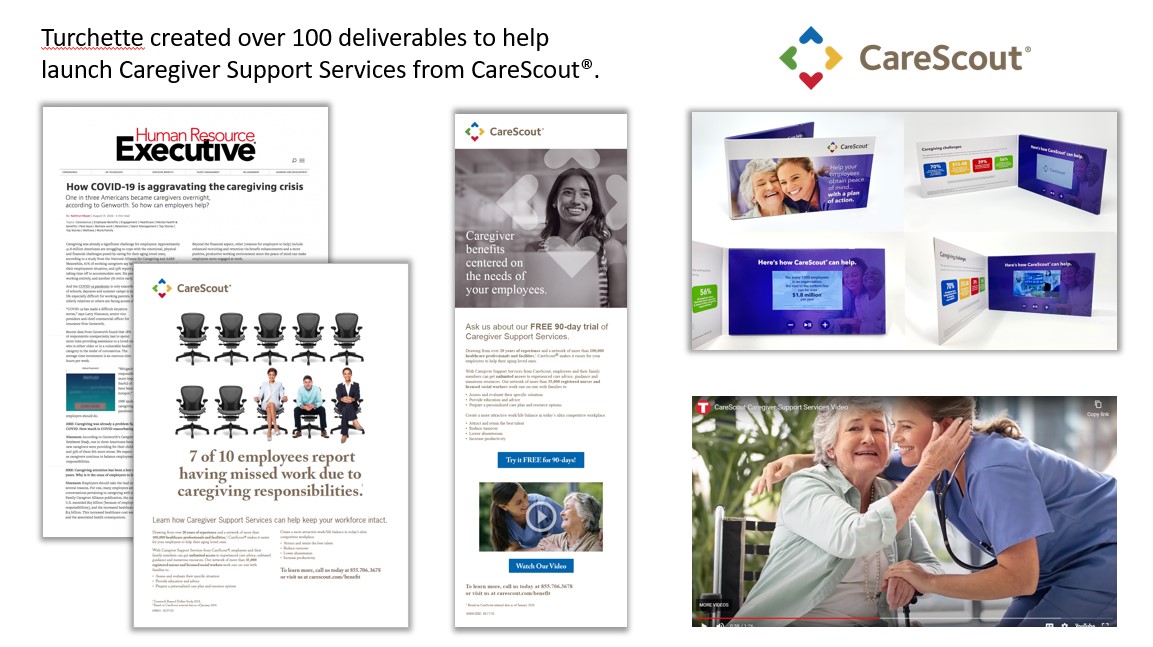 About Turchette: According to the 2020 Book of Lists published by NJ BIZ Magazine, Turchette ranks #10 on their annual list of Top Advertising Agencies in New Jersey. For six consecutive years, Turchette  has continued to climb the list — from #18 in 2014… to #10 in 2020!