TURCHETTE ANNOUNCES FOUR STAFF PROMOTIONS
2020…one crazy year.
Back in mid-March, just as the pandemic began its methodical march, the Turchette Team packed up our work, said goodbye and figured that we would all be together again soon.
Well, "soon" turned into each of us, encased in our own little snow globes, watching the world outside fall apart.
However, thanks to a lot of fast thinking and long hours, we made an early, seamless pivot from office to home for more than 7 months. After the shock of working from home morphed into our "new normal" for 2020 – we rolled up our pajamas and sweatshirts…and went right back to work…this time from our kitchen tables, bedrooms, couches, and basements. It wasn't always easy but we did our jobs, the creative work and the bills went out, and we are now poised for growth once again.
While trade shows went dark, we took advantage of social platforms, produced webinars, crafted videos and launched digital campaigns to keep our clients in the spotlight during the pandemic.
We landed 15 new clients, scooped up 14 awards for outstanding creative work, and welcomed 3 new members to our team.
2020 was a year we could never have expected, and one that we will not forget.  For over 70 years, Turchette has weathered recessions, multiple wars, impeachments, civil unrest and now, a global pandemic. We are eternally thankful for the clients that have stood by us through the years and for the talented and committed colleagues who continue to make up the tightly-woven fabric of our team.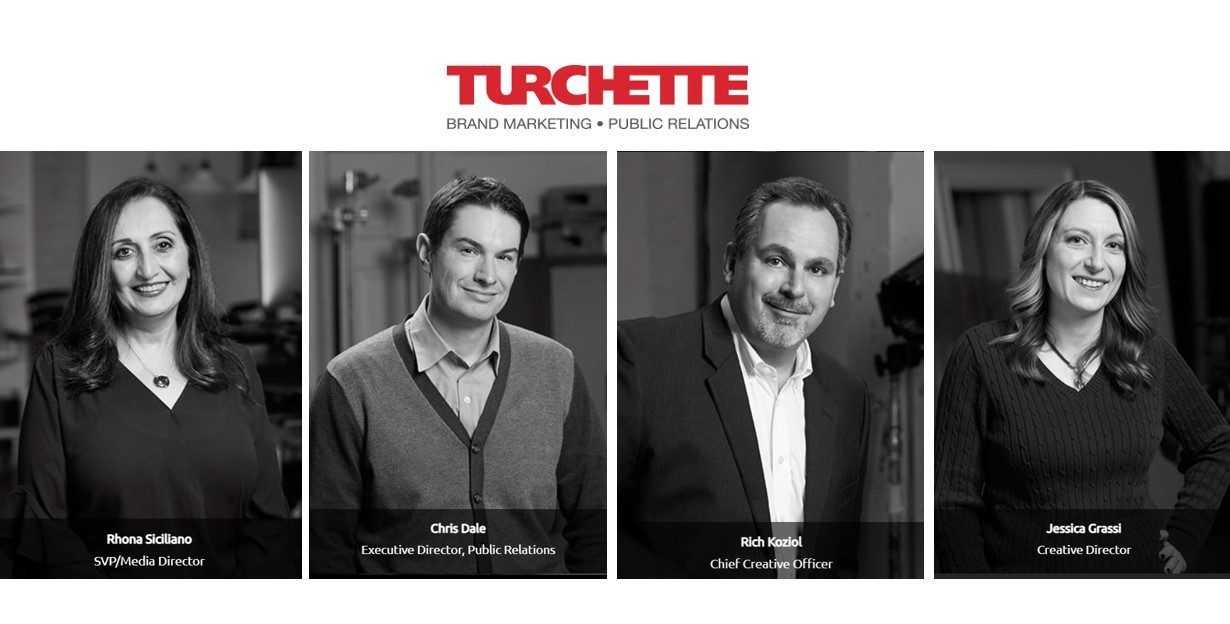 Turchette Staff Promotions Announced 
RHONA SICILIANO, Senior VP/Media Director
After 27 years with Turchette, Rhona continues to apply her considerable skill set to deliver a range of media solutions to our global clients.  She is the consummate professional and an invaluable member of our leadership team.
CHRISTOPHER DALE, Executive Director, Public Relations
For nearly a decade, Chris has helped our clients tell their stories through earned media across the globe.  A superior writer and a talented communicator, he takes pride in keeping our clients squarely in the spotlight with the perfect blend of solutions-based messaging and content-driven thought leadership.
RICH KOZIOL, Chief Creative Officer
Rich brings a finely tuned creative vision to every design project in the agency.  He has an innate sense of how to maximize brand impact for our clients and how to get the very best creative output across multiple disciplines.
JESSICA GRASSI, Creative Director
Jess keeps our creative and graphics process running smoothly, while simultaneously crafting a host of compelling deliverables, from web design and video to digital and print.  She has a relentless focus on delivering a premium creative product, on time and on budget.