Whether in need of a new tagline, a logo "refresh" or a whole new corporate identity, the creative department at Turchette has proven that branding and re-branding is truly an art, which can have a huge impact on your brand equity.
Our services include: brand assessment, name/logo/tagline development, corporate identity standards and communications integration.
Turchette's Approach to Branding
Our clients turn to us for brand development because, as one of New Jersey's most respected agencies, we understand how to build better brands – and have done so for dozens of companies, both big and small. Branding is more than just a dynamic logo and clever tagline to help uniquely position your company. True, those are key elements and a great deal of time and thought go into creating them, but brand development involves much more.
A brand is the sum total of all perceptions in your target customers' minds, a synergy of the entire customer experience. This includes what your customers think of you and their impressions of everything you share with the outside world. Emails, Facebook posts, Tweets, and yes, even the logo on your business cards all play a role in defining your company's brand image by inviting consumer judgments. It's a complicated integration of experiences, feelings and personalities that make your customers love (or hate) your company.
Branding is the process of using a number of tools to introduce the brand message to your customers, as well as gain awareness, build preference, and invite them to create a consistently positive customer experience with your brand.
THE BRAND ARC
The chart below illustrates that a consumer's level of emotional commitment to a particular brand can vary greatly, and shows how vital it is to build a brand connection with your target markets. Apple is a perfect example of a company whose brand resides at the very top of this arc.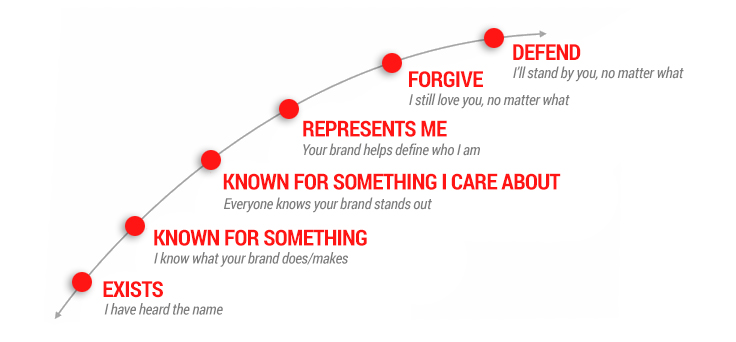 EVALUATING YOUR OPTIONS
If you're a new organization or start-up company, investing a large portion of your budget on a logo design without adequate market research and position planning is not a good move. On the other hand, if your organization or company is well established, it is important to periodically refresh your corporate identity so you are well positioned in the marketplace and aligned with your core values.
Here are a few questions you should consider:
What does the competitive landscape look like today?
Who are your customers and what motivates them?
How is your brand positioned in the market at the present time?
How do your customers describe their experiences with your brand?
Where are the gaps between your brand promise and the actual customer experience?
Free 30-minute branding consultation
To learn more about how a new or refreshed corporate identity can help improve your brand image, call us at 973-227-8080 for a free 30-minute consultation.
Rebranding can be a costly undertaking and a big change for your organization and customers, so make sure you are doing it for the right reasons. It is also critically important to hire an agency with plenty of experience that can walk you through the entire rebranding process.
It is easy to be lured by the excitement of designing a new logo and tagline. However, the decision to rebrand should not be taken lightly. If your company is well established, careful consideration needs to be given to the brand recognition and equity which has accumulated over many years. Sometimes new management is anxious to leave their mark on the organization and refresh their corporate identity. However, if you are not changing the purpose, direction or value proposition of the business, it may not be wise to do so. Rebranding is also not something you should do often or because you are tired of your logo or tagline. It can confuse existing and potential customers if you rebrand too often and do not properly communicate the reason for the change.
So, when should you consider rebranding?
If you are no longer attracting the kind of customers you want or if you wish to target a new audience
If cosmetically, your current logo and tagline look dated and no longer reflect who you are or what you deliver
If new management has a different mission, vision or set of values in doing and delivering business
If there is a substantial change in your corporate philosophy or direction
See our branding/identity portfolio /