A long track record of marketing success.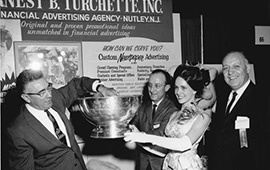 OUR HISTORY
Turchette Advertising was founded by Ernest B. Turchette, a marketing pro and former professor of advertising at Rutgers University. With just a handful of artists and salesmen, the firm set out to take advantage of the exploding mass media landscape and the booming economy of the 1950′s by helping local businesses with their advertising needs.
The firm quickly began to build a specialty niche in the banking industry and eventually hired several former bankers to join the firm in key account management positions. Continued growth lead to a series of larger offices in Nutley, New Jersey.
In 1978, Albert Callus took the reins as President of Turchette after 15 years with the agency and a long career as Director of Marketing for City Federal Savings Bank. During the 1980′s the agency relocated to its own building in Fairfield, NJ and began to diversify its client base beyond the banking industry into markets such as consumer electronics, cable television, industrial technologies, and more. The agency also made a move into professional sports marketing by landing accounts such as the NJ Nets, NJ Devils, Donald Trump's NJ Generals, the NY/NJ Knights and Temple University Football. By the 1990′s Turchette was providing direct marketing, PR, and national ad campaigns for companies in dozens of industries.
By 1995, Turchette was under the leadership of Michael Gavin, the company's 3rd President in nearly 50 years of operation. With decades of experience as a senior member of the account services team, Mike continued to expand the agency's focus and eventually moved the company in 2002 into new headquarters in Fairfield, NJ.
In 2011, Turchette tapped agency veteran James Gorab to become only the fourth President in the firm's 61-year history.  Mr. Gorab replaces long-time President Michael Gavin, who will stay on as the company's Chairman. Jim has a lengthy history of success at Turchette: he started with the firm as an account executive in 1989 and, as he advanced through increasingly important roles, played a large part in expanding the agency's client base to include a range of local, national and international companies serving industries such as pharmaceuticals, cosmetics, food and beverage, industrial equipment and consumer products.